What is the European Youth Card
What is the European Youth Card  
The European Youth Card is issued in Cyprus by the Youth Board to young people of Cyprus aged 13 to 30 years at a price of 10 euros and is valid for 1 year.
The European Youth Card Association (EYCA) acts as coordinator between countries issuing the Card on a European level  www.eyca.org
Holders of the European Youth Card have access to over 100,000 enterprises both in Cyprus and in Europe.  Benefits and discounts are offered by outlets selling a variety of products, e.g. sports items, health and beauty and clothes & shoes, as well as by cafeterias, restaurants and hotels; the Card can also be used for services, tickets for events, theatrical performances and music concerts, in bookshops, consultative/educational centres etc. in some 40 countries across Europe.
In addition, our Card at regular intervals offers generous gifts to its holders (e.g. tablets, smartphones, laptops) through competitions we provide on Social Media Networks (Facebook, Twitter, Instagram).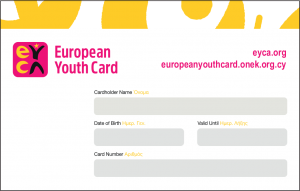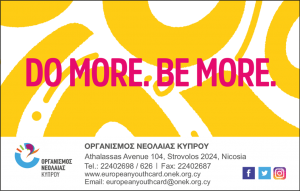 What is the Student Card
What is the Student Card
In addition, the Youth Board of Cyprus, in cooperation with the Ministry of Education and Culture, undertakes to issue the Student Card FREE OF CHARGE, which is connected to the European Youth Card and provides the corresponding benefits. Moreover, Student Card holders enjoy additional benefits, such as for instance a discount (50%) on buses in Cyprus, and more.
The Student Card is granted to all students of accredited and certified Higher Education study courses in Cyprus, as well as to young Cypriots studying abroad (between 13 to 30 years old).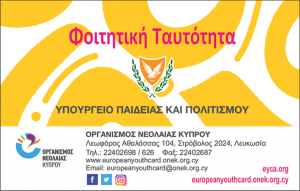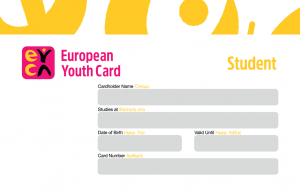 Issue the Card here
Select which card you want to get: